PRESENTATION OF THE SUB-PROJECT 6
Biodiversity and transmission of L. monocytogenes in the food chain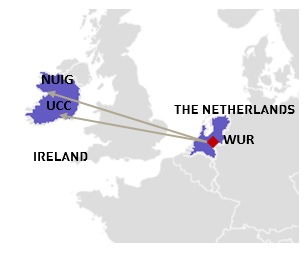 HOST INSTITUTION AND SUPERVISOR:
Wageningen University, DR. Tjakko ABEE (more details)
OBJECTIVES:
This project will focus on the performance of L. monocytogenes food and outbreak isolates (belonging to different lineages) in single and mixed species biofilms using selected secondary species including lactic acid bacteria isolated from food processing environments. A next-generation sequencing-based method that targets a variable intergenic region will be employed to assess biofilm ecology in single and mixed species conditions to assess performance of different L. monocytogenes strains when administered in mixtures. Relevant transcriptome and full genome sequences will be obtained and used in gene trait matching with selected biofilm and food process stress resistance-associated phenotypes. Screening will be performed for establishment of stable stress resistant persisters isolated after exposure to disinfection treatments and during maturation of biofilms. The performance of these strains including growth characteristics at low temperatures under aerobic and anaerobic conditions, and stress resistance will be analysed in single and mixed strain competition in relevant conditions encountered during transition from saprophytic to virulent lifestyles.
EXPECTED RESULTS:
Transcriptomic response to the biotic environment, assessment of intraspecies diversity
SECONDMENTS:
National University of Ireland Galway (more details) and University College Cork (more details)
DURATION OF THE RECRUITMENT :
36 months
PRESENTATION OF THE FELLOW
Natalia CRESPO TAPIA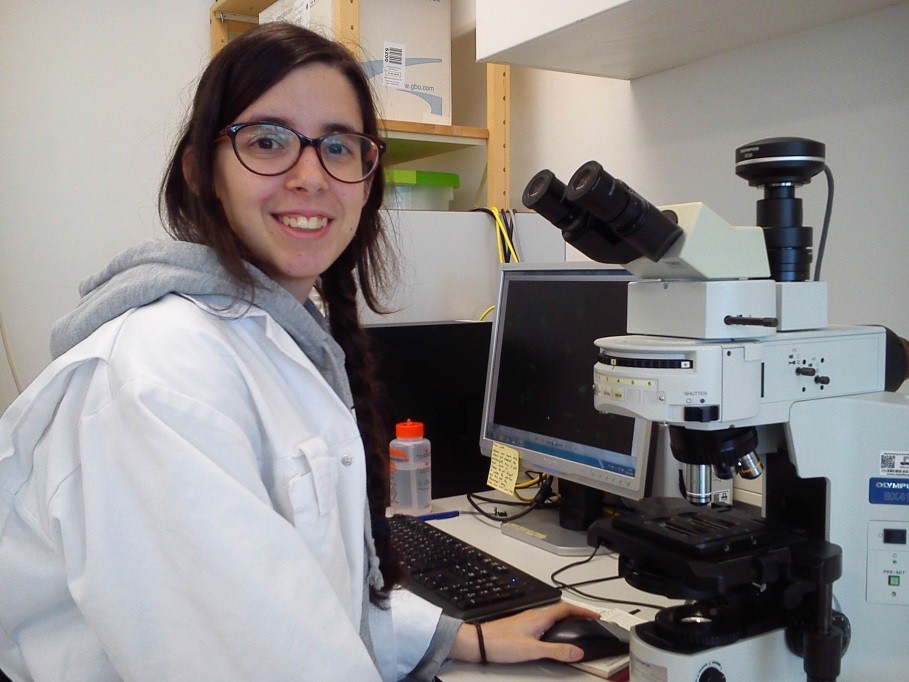 MY PREVIOUS TRAINING AND EXPERIENCE:
My name is Natalia Crespo. I am 24 years old, and I come from Spain. I took my undergraduate degree in Biological Sciences at the UCM (Universidad Complutense de Madrid), but I spent the last year of my degree in a science exchange program in Canada, working on my final research project at the University of Calgary. Then I moved to London, where I completed my MSc in Medical Microbiology at the LSHTM (London School of Hygiene & Tropical Medicine). I did my master's research project at the UCL School of Pharmacy.
WHY I WANTED TO JOIN THE PROJECT :
One of my main research interests is the field of bacterial biofilms. I applied for the List_Maps PhD position in Wageningen University (The Netherlands) because the project was focused on Listeria monocytogenes biofilm formation, which is a big safety issue in the food industry. My project aims to study L. monocytogenes single and mixed species biofilms. The majority of biofilms in nature are composed by more than one bacterial species; however most of biofilm research is based on single species biofilms. Therefore, it will be really interesting to analyze the performance of this bacterium in the presence of other strains and species, as well as their interactions with each other within the biofilm matrix.
ABOUT MY RESEARCH PROJECT :
This project will involve experiments to determine and quantify the performance of selected whole genome sequenced L. monocytogenes strains from different origins within single and mixed species biofilms, using L. plantarum as a secondary species. Biofilm ecology, intra-species phenotypic diversity, and cell-cell interactions and communication within the biofilm will be studied; their role in biofilm formation and regulation will be characterized by a broad range of experimental procedures, including confocal fluorescence microscopy, proteomics, transcriptomics and gas chromatography.
OTHERS INTERESTS:
I love travelling. I have enjoyed living abroad for the past couple of years, and whenever I get the chance I like to spend my free time discovering new cities and countries with friends. I also like reading and drawing, especially when I need to relax after a stressful day at the lab. I have even started to develop a fondness for biking, which is good, because it is the main way of transport here in The Netherlands!
CONTACT :
This project has received funding from the European Union's Horizon 2020 research and innovation programme under the Marie Sklodowska Curie grant agreement n° 641984